If you searched for 'SEO Mallorca' on Google and found this blog post: BOOM! That's SEO!
SEO can be scary and can seem time-consuming and overwhelming. Let's start with the basics.
SEO, or search engine optimisation, is the process of optimising your (on and off-page) online content to contain keywords, phrases and content that makes it easily 'discoverable' by search engines, and thus, your target customers. The better the SEO, the more discoverable your site will be, and the greater the chance you'll appear in those all-important page 1 or 2 search engine results. This work can be done by an SEO Consultant, an SEO agency, or if you have the time and knowledge, by you.
Whoever does it, the real magic of SEO and SEO Copywriting lies in the research and evaluation of the keywords and phrases that are relevant to your business and your target customers and the resulting creation of content which then adds value to those customers. Read what Google has to say about 'Creating helpful, reliable, people-first content' here. How good your research phase is will determine not only how good your content is, but the volume and relevance of the organic website visitors it results in. We'll get into the details of what this means in a bit.
As any good SEO Consultant will tell you, SEO comprises Technical and Content elements, so understanding the (at the very least) high-level technical landscape of your website's digital presence is also fundamental to SEO success. Technical SEO can be complex, but for the small business owner, you might like to consider the things I cover the article "SEO Copywriting: What you need to know" as being the most important.
What's specific about doing SEO in Mallorca?
Firstly, the island is tiny, and word of mouth has the power to make or break your business! That word of mouth happens on Facebook and Instagram groups – two of my favourites are Mallorca Expats and I have a question. Barely a day goes past when someone (often me!) doesn't ask for a recommendation for a service; be it a plumber, restaurant or massage parlour (steady on, we mean of the back-cracking kind). Sometimes, the recommender will tag the business or individual they are recommending, and this works well if you have an existing social media presence. If you don't, however, and someone just mentions your business by name, this is where investing in SEO comes in handy; so that your business is 'discoverable'. Discoverable means that someone who searches for you by name or describes the product or service you offer finds your business, and finds them on page 1 or 2 of the SERPs (search engine results pages).
2. Language! Castellano, Catalan, Mallorqui, English, German, French – oof! One of the best things about the gorgeous population hotch-potch in Mallorca is how varied it is! One thing's for sure; if you can create digital content for, and service, customers searching in Spanish as well as English or German, you easily multiply your target market. Our agency started in Germany but given our move to Mallorca, we now have SEO consultants working in Spanish, English and German and have translated our website accordingly; meaning we can target business owners in all 3 languages.
3. Competition baby! Tourism is the lifeblood of the island, and the key months for travel find many businesses vying for the same hard-earned holiday Euro. Set your business apart with a solid SEO strategy that means customers will find your business first. SEO tailored to Mallorca can attract visitors to your physical business, as well as generating sales for online businesses. A well-designed, SEO-optimised website that showcases the products or services you offer combined with engaging social media content will put you in the lead.
You may have noticed many sub-par digital experiences for local businesses – it's not hard to do better, so get going today! Yes word of mouth marketing is key, yes if your bar is on the main street in Calvia village you have a head start and sure, if you are the only shop selling leopard print thongs you might have a monopoly. For all other businesses in Mallorca, SEO will be the digital lifeblood that sustains your business during high and low seasons. And hey, it's WAY cheaper than advertising on the radio!
4. Think like a customer, SEO like a pro! Mallorca isn't just an island, it's a place where dreams come true, where proposals are accepted, where babies are conceived, bucket-lists are ticked off and lifelong friendships formed. Holiday-makers want to curate their experience to make it the very best it can be, and expats living here turn to Google on a daily basis as they fight to establish a life for themselves and their family. Consider these humans carefully when you do your research and choose your keywords. Which is a nice segue into…
5. …Keywords are king, not content! As I discuss in my SEO Copywriting blog post, the researching and choosing of the correct keywords your website content will include is absolutely critical. Spending time researching and thinking about the right keywords for your Mallorca-based business and being smart about head Vs tail, is what sets copy that leads to traffic apart from copy that lives on your Blog that nobody sees!
There are some good free tools out there to get you started; MOZ and SEMRUSH are our favourites. Our top tip is to start broadly and narrow down the list to the keywords that have a good volume, but are of the most relevance to your business. This is where the concept of keyword difficulty comes in. Hang tight, this is important! Let's look at some specific Mallorca-related keywords:
'Restaurant Mallorca' has 22,000 searches a month, so as a new restaurant, you might be tempted to include these keywords in your website content strategy. Good idea? Not really, because the keyword is competitive (has a high KWD or 'keyword difficulty'), meaning it will take you much longer to rank on that all-important page 1 or 2. So what do you do?
A) Make sure you appear on any websites that already rank for that keyword! Tripadvisor, ABC Mallorca and Helen Cummins should be your first ports of call, as should having an up to date Google My Business profile, complete with professional photos and user reviews so that you hopefully appear in this beautiful, Geo-located 'Map Pack':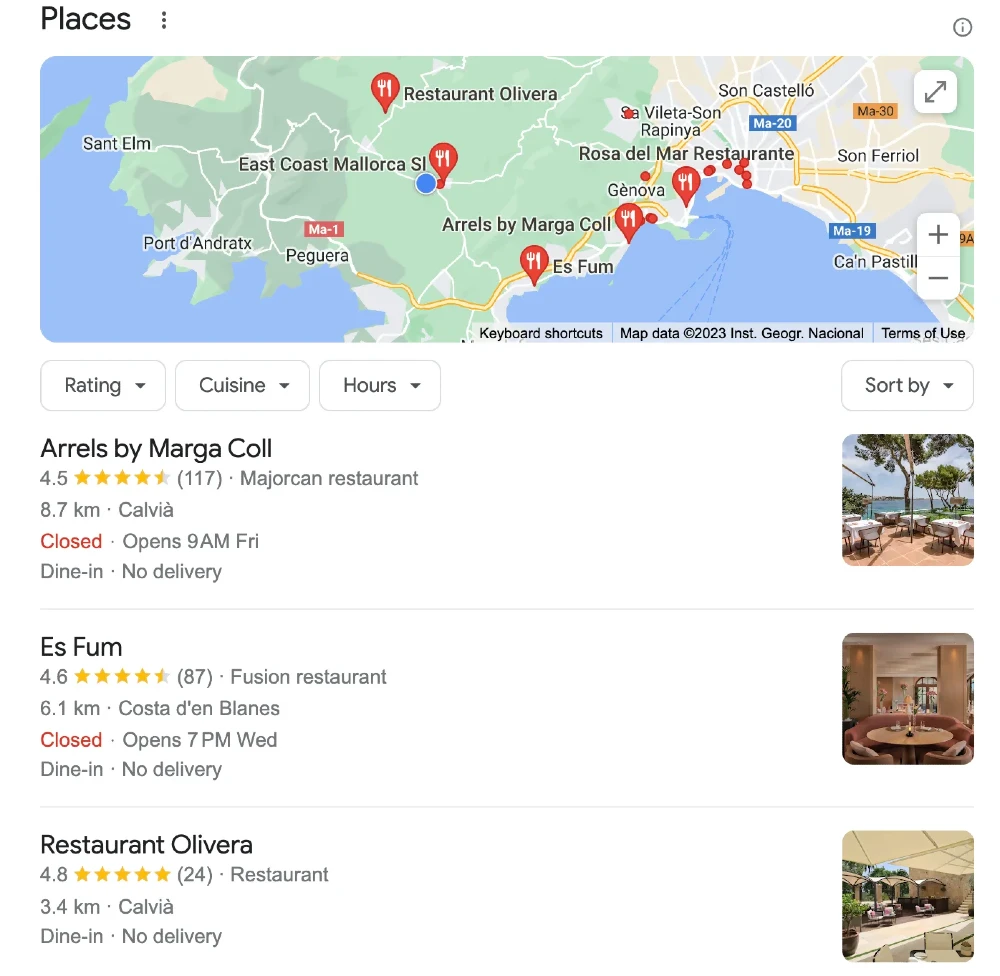 B) Consider instead, alternative 'long-tail' keywords that are relevant to your business, for example: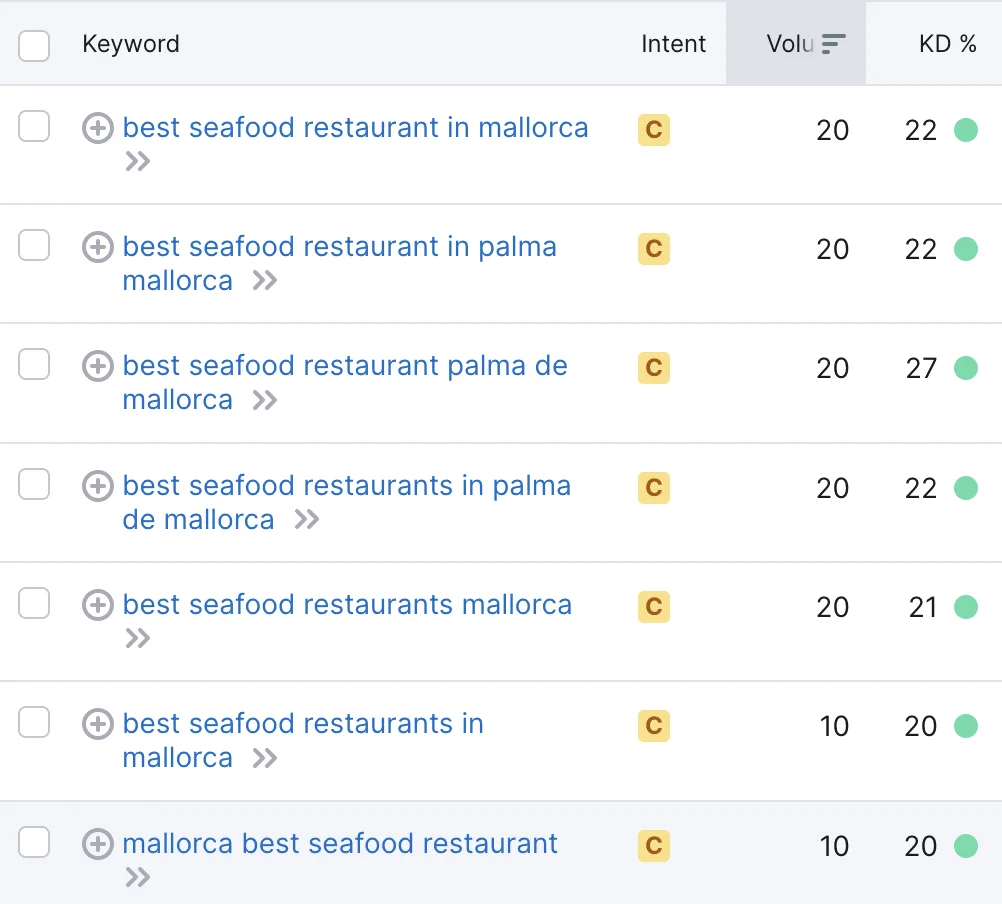 Suddenly, you rank for hundreds of searches a month with not so much competition. Craft good content, do your Metadata properly and offer a great service to your customers, and you'll be winning at SEO in Mallorca in no time. If this all sounds too much, check out our small business SEO packages, or give us a call to discuss your needs.
What is local SEO you might ask? According to Search Engine Journal (one of the leading SEO voices globally) 'Local search is an integral part of any SEO strategy targeting customers in a specific region, city, or neighborhood. Simply put, local SEO is where you focus to improve your rankings and visibility in local search results such as Google's Map Pack/Local Pack.'
By tailoring your website content to specific geographical areas, you increase your chances of appearing in local search results (in Google called the 'Map Pack') when potential customers are looking for businesses like yours – see my result here for 'Supermercado Calvia':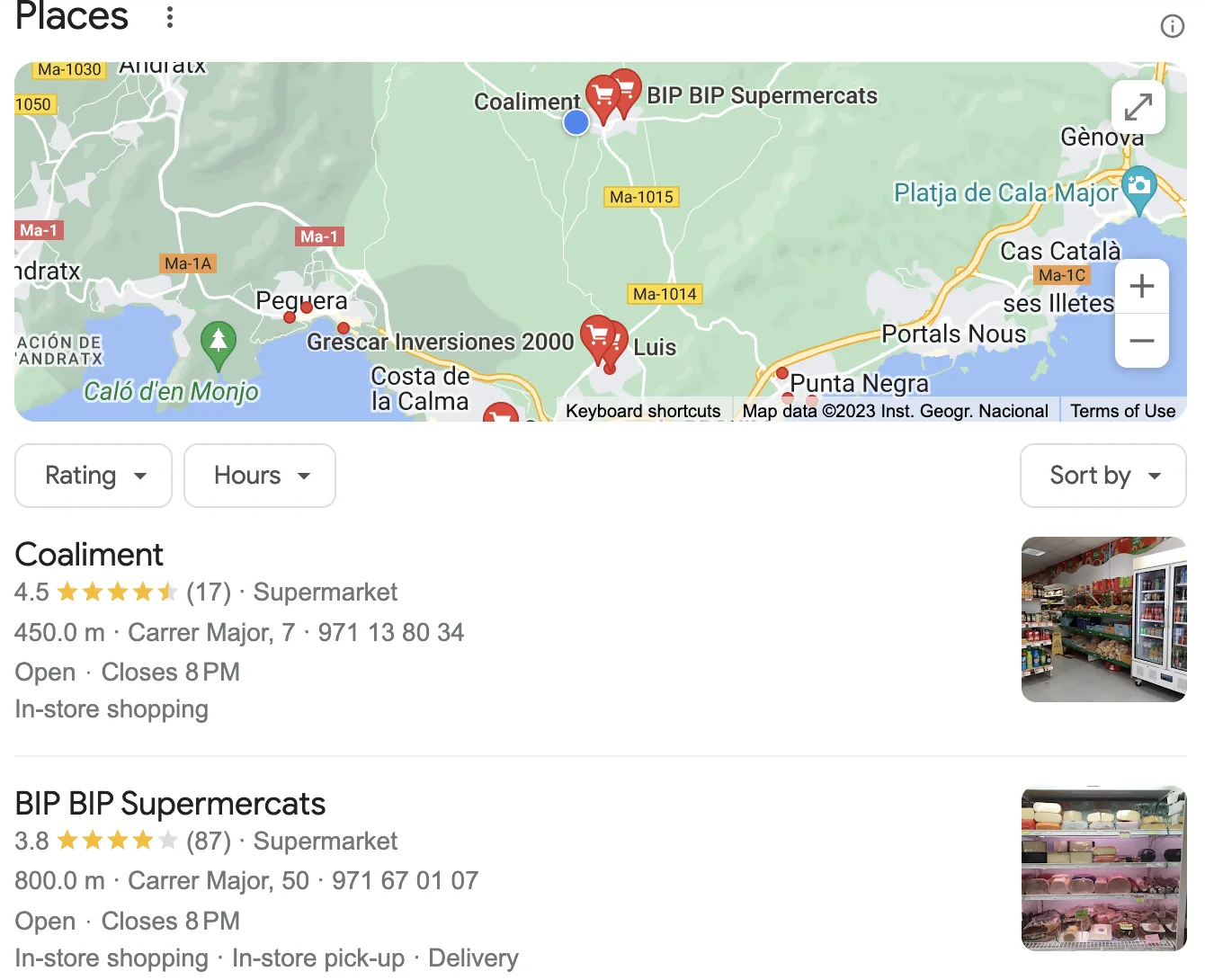 How do you do this? By having a Google My Business profile, and by populating it with images, reviews, your address, your opening hours and anything else useful to a potential customer (dog-friendly would get my vote!). It's all very easy to set up, but if it gives you the heebie jeebies, check out our 'Getting started' SEO package which includes the set up and ongoing optimisation of your profile.
Another smart way of taking advantage of local SEO in Mallorca and increasing your local discoverability, is to create location-specific pages on your website (and of course including location-specific keywords throughout these pages).
SEO is no-doubt a cost-effective, sustainable digital marketing strategy for Mallorca-based businesses looking to drive traffic to their websites and generate sales. If you have the time to learn how to do it yourself, there are heaps of resources and free tools out there to get you started with the basics. For a more advanced strategy, or an ongoing effort however, consider working with an experienced SEO consultant in Mallorca to develop a strategy that is right for  your business.
One important reason why is makes sense to use an agency or SEO consultant, is the enterprise (read: expensive) level tools that agencies pay for that you get the benefit of when you work with them. That's not to mention the skills and experience that comes with managing SEO for years, and the benefit you can derive from that. 
Tikitaka Digital is a leading SEO consultant agency in Mallorca with highly experienced SEO consultants who can speak English, German and Spanish. We have over 2 decades of combined SEO agency experience, and have tailored our packages to suit the small businesses that dominate the economic landscape in Mallorca.
We form long-term partnerships.
Over 90% of our customers continue their partnership with us in year 2 of their campaign.
Stay up to date with the latest news from the brightest minds.