Whether it's Mallorca or Manhattan, not all Marketing Agencies are created equal.
Handing over your hard-earned cash to a Marketing agency is a big deal, especially for small businesses…
Why do I need a marketing agency in Mallorca?
Unless you've got a Marketing degree or worked in Marketing prior to starting your business, the chances are a Marketing agency can be of real value to your business when it comes to driving growth. In addition to being experts in their field, Marketing agencies usually have access to tools and insider industry resources that you might not have access to.
A (good!) Marketing Agency in Mallorca can not only grow your business, but do it cost-effectively.  Ask any small business owner that's tried their hand at Google Ads or Meta advertising; it's a really easy way to give yourself a headache and your wallet a dent!
As a digital marketing agency that's team members have over 35 years' collective experience, we are well-placed to give you honest insight into these services, and how to ensure you hire a Marketing Agency in Mallorca that will be an asset to your business. 
Digital Marketing Services Overview
If you have a digital business or one that has or needs a digital presence, read on for an overview of the services that a marketing agency in Mallorca might offer.
SEO: The practice of optimising a website's front and back end content to achieve better results in search engine results. Content production is a vital part of SEO, so it's important to choose an agency that is skilled in both, or at least has access to writers.
SEM: Sponsored Ads on  Google or Bing that are paid for according to a cost per click model (e.g. the cost associated with a user clicking on a keyword you are paying for and going to your website).
Social Media Marketing: This can be organic or paid, and is the practice of ensuring your social media content is shown to your target audience.
Content Marketing: Blog production, SEO content, Podcasts, Advertorials in digital press, LinkedIn thought-leadership posts are all forms of content marketing.
Re-marketing: This is the (extremely effective) practice of showing advertising to people who have already visited your website, with the aim of pushing them further down the conversion funnel towards a purchase.
Consulting: Go to market strategies for new businesses, conversion rate optimisation projects for existing businesses, SEO programs, Creative, Pricing or Messaging reviews. There are myriad ways a marketing agency can add value to your business. If you know what you need for your business, but have no idea how to achieve it, book a consultation with a marketing agency as a starting point.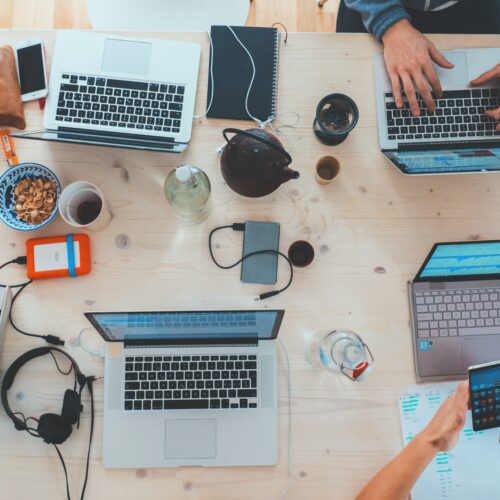 Marketing Channels By Objective
Being clear on your business objective will help your marketing agency select the best channels to help you achieve your goals. Here is a small overview:
Want to reach businesses and the people that work for them? LinkedIn is the go-to but newer players such as Zoominfo are excellent too.

Want to make people aware of your product or service?

Social Media Marketing

(Facebook, TikTok and Instagram) is the channel to consider, as well as Display Ads in the Google Display Network, or for bigger businesses, platforms like Criteo are worth getting across.

Want more traffic to your website? A solid combination of SEO, Paid Search and Display will get your visitors flowing.

Want more customers to your offline store? Social Media Marketing, Paid Search and Local SEO can help.
How do I find a (good) Marketing Agency in Mallorca?
Firstly, consider whether you need an agency on the island or are happy with one that's remote-only. Personally, my favourite client meetings are the ones held face to face; if you have a problem or need something sorting urgently, having someone physically on the island that you can meet with helps make stressful business challenges that little bit easier.
As with anything in Mallorca, word of mouth can be a great way to find a good marketing agency; ask in the Mallorca Facebook groups such as 'Mallorca Expats' or 'I have a question', and you'll be inundated with recommendations.
Google is also your friend when it comes to finding an agency, simply search for 'SEO Agency Mallorca' or 'Marketing Agency Mallorca' and any good agency worth their salt (read: SEO skills) should appear in the first few results.
Dos & Don't for hiring a Marketing Agency
What makes a good or bad Marketing Agency in Mallorca is the same as what makes a good or marketing agency in New York. Here are our tips:
Do
Review their website carefully: Any good Marketing agency should be able to communicate clearly and engage you with their writing. Badly worded sentences and spelling mistakes speak of sloppy work.
Pay attention to user reviews: Yes they can be manipulated, but not fully. The overall tone and quality of reviews should give you a good gut feel of how the agency is received by its clients.
Brief the agency fully and be their on-call business expert: Did you know that you are one of the most important team members in the marketing agency? If not THE most important? Nope, it's not because you pay the invoices (ok that's nice too!), it's because you know your competitors, customers and product or service better than anyone. The more of this wisdom you impart, the better the work will be that your agency can do. 
Have a clear objective in mind: Clearly communicated objectives which are agreed on as a team lead to motivate team members working hard to achieve the same goal. It leads to budgeting efficiency and optimal performance. Think about what you need for your business, and how much you can afford to pay for it. Be honest about your target cost per lead, customer or content engagement, and make sure you have calculated your activity to be profitable.
Take websites that list the 'Best marketing agencies in Mallorca' with a pinch of salt: Those agencies have paid to be listed (forms of marketing called referral, affiliate and 3rd party content) and might not be as skilled as you'd think.
Don't
Sign a fixed term contract without KPIs in place: SEO aside which is harder to forecast, many forms of digital marketing are fairly easy to forecast performance for. Don't be afraid to ask an agency to create KPIs and review them regularly. Ensure that a breach of these KPIs, especially if sustained (anyone can have a bad month or two) enables you to end the contract early.
If an agency is coming on board to optimise what you've already done, they should be able to analyse your performance and have a fair guess at the impact they can make and not be afraid to agree to KPIs.
Hire an SEO agency that promises you fixed results in a fixed period of time: No-one, including senior engineers at Google, can promise you what the finely-tuned, ever-evolving and extremely complex algorithms will decide to do with your site and content, and not even Mystic Meg can give you a timeframe! Good SEO takes time, and is a consistent and thorough effort that always leads to success when done well. Technical correctness, a mobile-first, optimised -for-speed site build, good metadata, great content, a great user experience and regularly produced content that is of value to your target audience is how to do good SEO.
 Tikitaka Digital is a new, but already successful Marketing agency in Mallorca with a highly experienced team who can speak English, German and Spanish. We offer fair pricing and a 'No stone unturned' approach to driving growth for businesses of all shapes and sizes. If we sound like the kind of marketing agency. in Mallorca you'd like to work with, give us a shout today.
We form long-term partnerships.
Over 90% of our customers continue their partnership with us in year 2 of their campaign.
Stay up to date with the latest news from the brightest minds.