XING Vs. LinkedIn as a comparison is nothing new,
but most existing articles focus on what the various platforms offer job seekers. But how do these two platforms compare when it comes to targeting ad campaigns? Let's take a look at that.
What does each platform offer the advertiser?
According to XING, the platform offers "detailed criteria based on member data, allowing you to select your target audience precisely and who should see your campaigns. Using SQL database queries, XING can also select all member profile entries, such as interests, hobbies, activities, educational qualifications and skills."
With, according to its own figures, 19 million members*, XING is the largest online business network in the German-speaking world, and since 47 percent of its members hold executive positions, any campaign aimed at senior employees of companies in the DACH region should definitely start with XING. In fact, people aged 35+ make up less than 22% of the LinkedIn audience in DE. Since management positions are rarely held by people under 35, it seems that senior stakeholders in Germany are more likely to be found on XING.
It is worth noting that XING's market share in the student and entry-level market is low, at just 7% overall, perhaps reflecting the shift to LinkedIn in recent years in this region. In addition, there is low penetration among the under-30s: Only 9% of the XING base is 30 or younger. Are these young people on LinkedIn or are they too busy on TikTok to engage in digital business networking? Read on and find out!
It is interesting to note that while SMEs (companies with more than 30 but fewer than 250 employees) ** represent 99% of all companies in the EU and 63.7% of employment in the non-financial sector, they account for only 49% of the user base reported by XING. This raises two questions – is the difference in numbers explained by higher XING penetration in finance, or are the rest simply on LinkedIn? Certainly a good question to explore through implicit testing of XING vs. LinkedIn using company sizing criteria.
XING marketing campaign planners can choose from 22 industries or disciplines, as well as refine their target audience by gender, company size, age, and 9 different career stages (from unemployed to company owner). Geographic targeting is possible at DACH, country or even city level. Agencies and companies with AdManager access can also use free text to further refine based on job seeker status, field of study, and company name.
LinkedIn Campaign Manager
LinkedIn is hot on XING's heels. With 16 million DACH users as of early 2021 and a remarkable growth of 1 million new users per month, we should expect LinkedIn to catch up and easily overtake XING in 2021.
LinkedIn is not as transparent as XING when it comes to the demographic breakdown of its users, but we found that 25-34 year olds make up the largest share of LinkedIn users in Germany at 55.8%. Remember the missing Millennials and Gen Zers from the XING demographics? Yep, as suspected, they're cavorting around here on LinkedIn!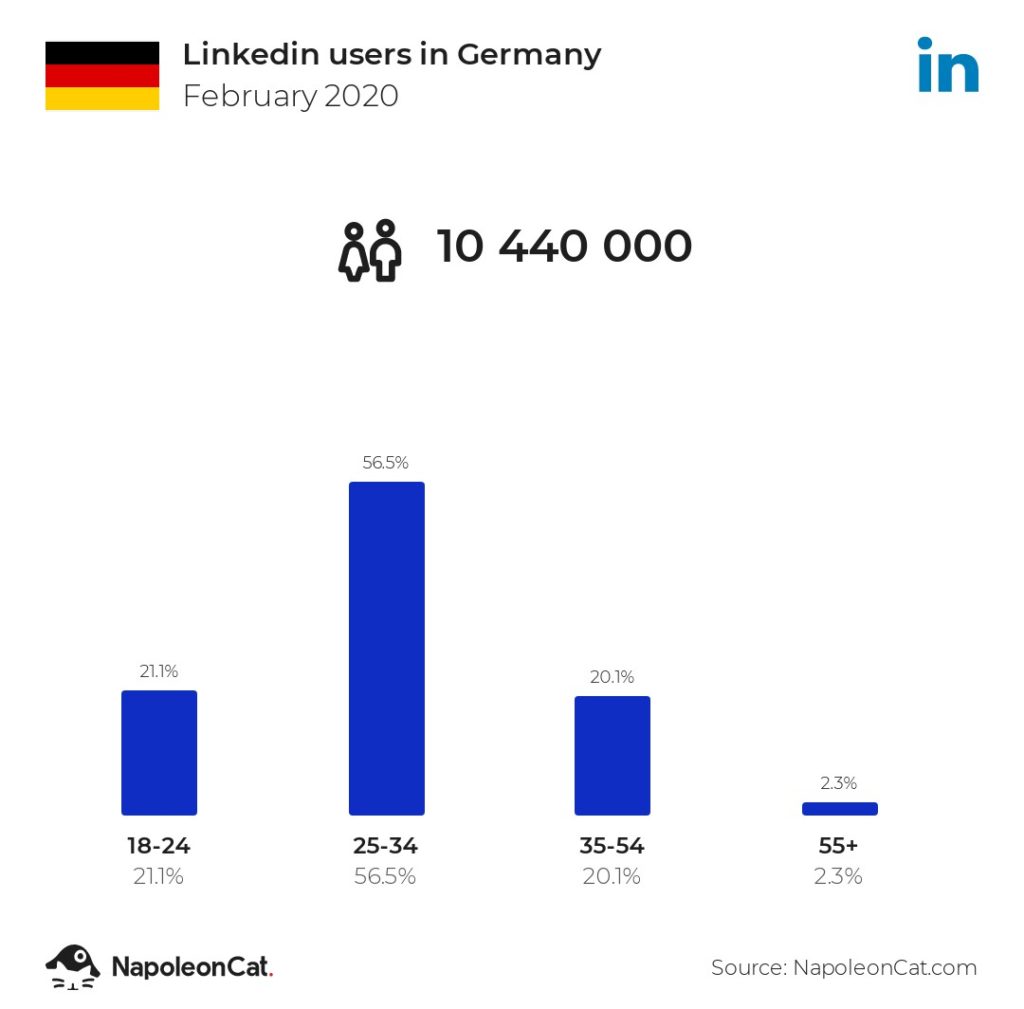 According to LinkedIn; " target a high-value audience in a professional context." LinkedIn Business Solutions gives you the ability to target influencers, decision makers and executives. Users can combine targeting criteria to create persona-based targeting for their campaigns: IT decision makers, C-level executives, prospective students, small business owners and more.
For us, LinkedIn is a superior advertising platform because of the advanced targeting and campaign setup capabilities that XING doesn't offer, such as the ability to target the entire awareness conversion process with different targets within each process:
LinkedIn also offers the ability to target people based on their expertise, which is invaluable when you're creating highly targeted, personalized content with knowledge as a prerequisite; something XING doesn't offer. Further intelligence is evident in LinkedIn audience targeting, where the platform allows advertisers to re-target based on uploaded lists, website visitors, third-party lists, as well as retargeting based on interactions such as video views, clicks on image assets, clicks on posts, etc. XING offers no retargeting at all, a huge win for LinkedIn when you compare the two and the value you can get for your advertising dollar.
Both platforms now offer something like Facebook's "Lookalike Audiences," with the former available in LinkedIn and on XING as "audience extensions" or "statistical twins": "We can increase the reach of your ad by expanding your target audience to include XING members whose profiles are similar to those of your chosen target audience (so-called statistical twins).
XING lets you choose between clicks or impressions as your campaign bid, whereas LinkedIn offers "Maximum Delivery", "Target Cost" or "Manual Bidding" – which is much more similar to Facebook's Ads Manager setup and ultimately gives you more control over your campaign.
XING Vs. LinkedIn - Our conclusion
LinkedIn is superior in terms of advanced campaign setup/optimization and audience targeting capabilities. If Millennials and Gen Z are your target audience, LinkedIn is the platform for you; older, more experienced executives in Germany will be found on XING (though many will be savvy enough to use both). How do we know that? Well, 47% of XING users hold an executive position, and people over 35 make up less than 22% of LinkedIn's target audience in DE. Considering that management positions are rarely held by people under 35, it seems that older stakeholders in Germany are more likely to be found on XING. So our hypothesis is that people between these two extremes use both networks.
So for ad managers planning LinkedIn marketing campaigns or XING marketing campaigns, our recommendation is: if you have the budget to do both without compromising reach within each platform, and you want to target a broad audience in DACH, use both platforms. If your campaign is aimed at an older target group, use XING. For campaigns targeting younger audiences, focus on LinkedIn.
If you're an experienced campaign manager and really want to get into optimizing and re-targeting your campaign, LinkedIn undoubtedly offers more of what you need.
For now, it appears in Germany that the XING vs. LinkedIn debate will continue. But we at tikitaka believe that XING still has some way to go to maintain its supremacy in the DACH region.
If you need help planning your next LinkedIn marketing or Xing marketing campaign and aren't sure which side of the Xing Vs. LinkedIn fence you sit on, give us a call for a free 30-minute consultation.
Stay up to date with the latest news from the brightest minds.